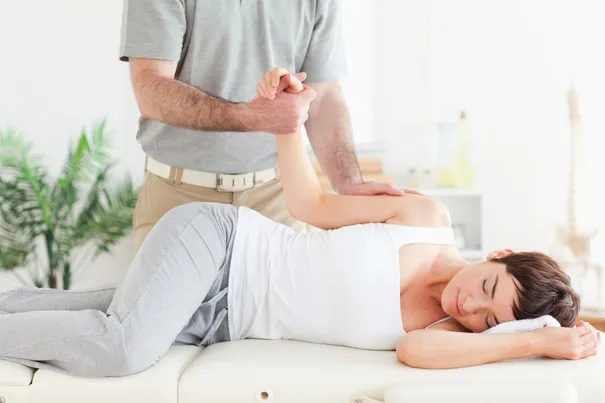 Chiropractic adjustment is the primary approach that a Chiropractic doctor uses to treat and correct painful "vertebral subluxations," an abnormal alignment of the spine's vertebrae that causes pain, inflammation, and diminished range of motion and function.
While other doctors use needles, medication, or surgery for treatment, research shows that chiropractic adjustments and services are the least invasive approach, but have the highest success rate with most common musculoskeletal ailments.
These gentle chiropractic adjustments enable the body to reduce swelling on its own and allow the affected areas to heal. They provide quick pain relief, alleviate muscle tightness, rapidly diminish or eliminate muscle spasms, restore mobility, and help improve overall health and wellness.
Gentle pressure is applied manually next to the spinal joints that are pinching or pulling on the nerve tissues. When adjusting older patients or infants, we use the Activator, a small, hand-held instrument that puts no stress on the body and delivers a gentle impulse to restore motion to the targeted spinal area.
A chiropractic adjustment provides quick pain relief and restores mobility, alleviates muscle tightness, and allows the affected areas to heal. Patients will immediately feel better, even after the initial treatment!
A chiropractic adjustment, also known as chiropractic manipulation, manual manipulation, or spinal manipulation, is the primary chiropractic treatment method for back pain.
Spinal manipulation relieves pressure on joints, reduces inflammation, and improves nerve function. It has been a trusted form of treatment since the ancient Greek Hippocrates documented manipulative techniques in his writings back in 1500 B.C. Today, spinal manipulation is used to treat conditions such as allergies, menstrual cramps and headaches.
How Does Spinal Manipulation Work?
There are well over 100 types of adjustment techniques used by chiropractors throughout the world. Some practitioners may use force and twisting, while other techniques are more gentle. Regardless of how they are performed, these techniques are intended to restore or enhance joint function with the objectives of reducing pain and resolving joint inflammation.
When vertebrae shift out of place, there is an overall systemic response from the muscular system to the central nervous system. Without proper alignment and flow, our nerves, our immune system, and our minds cannot function at their highest peak.
Overall, spinal adjustments and manipulations are an excellent way to keep the body functioning at its highest level without any discomfort. When the body is adequately aligned, it becomes able to respond and perform as it was built to do.